Want to try our new experience? Axe throwing by Axcitement! We offer 4 lanes for your team, up to 5 players per lane. With friends, your loved ones, family or colleagues, you'll enjoy the excitement and stress release. It's an ability game, accessible to all, and you'll be surprised: strength does not equal points…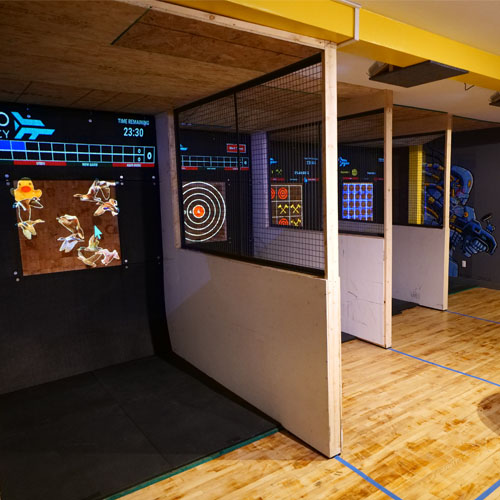 THE ONLY AXE THROWING CENTER USING PROJECTORS
Bull's Eye utilises projectors to provide the best experience of axe throwing. You can choose from ten games: Duck Hunter, Zombie Assassin, Tic-Tac-Toe, etc. Guaranteed fun for your team. Moreover, we have a functionality to level the field, ideal for families or sore losers😊.
RUBBER WALLS OFFER A SAFE ENVIRONMENT FOR ALL
Indeed, the built rubber walls absorb 90% of the axe rebound effect, guaranteeing a fun, safe and less noisy game experience. Also note we're tolerance zero for drugs and alcohol. We offer a full bar service on site… but after your game!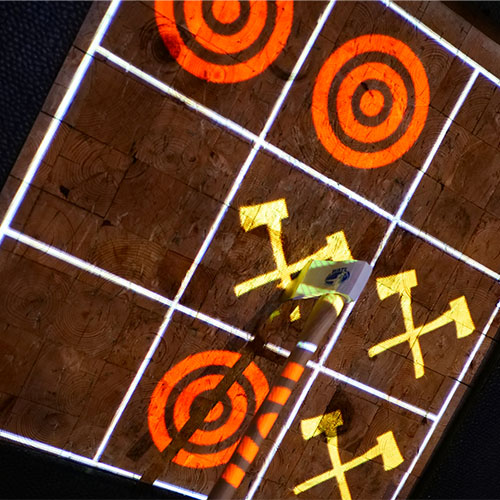 WHAT TO EXPECT @ BULL'S EYE?
Briefing on the game: our dedicated game master will explain the basis of the game and focus on safety measures.
Electronic signature of the liability waiver.
Choose your game.
Have fun for 30, 60 or 90 minutes with your team.
The game master will provide tips and guidance throughout the game.
Option: mini tournament (12 yrs old and up), with crown and champion cape.
When you make a reservation for an axe throwing game, you will receive a promo code, via the confirmation e-mail, offering $10 off a Virtual Reality experience. Prolong the fun with this mind-blowing experience, offered in the same space. To participate in both experiences, you'll have to reserve in two separate transactions.
FAQ
Is Axe Throwing safe?
100% safe. Of course, as any sport, you'll have to follow the security guidelines and our game master's instructions.
What's the minimum age to play?
There's no age limit with the Axcitement system. We personally recommend 16 years old & up. Kids are welcome, but under the entire responsibility and surveillance of the adult in their team.
Can we enjoy a drink at the bar?
There is zero tolerance for playing under the influence. The axes are real, heavy and sharp. We offer a full bar service, but after your game only. No bottles will be permitted in the space, even for non-players in your party.
Is there a dress code?
You need closed shoes, hiding toes.
I've never played before, is there a learning process?
Our game master will show you the basics, explain the security measures and will stay throughout the game to assist you. He can provide tips and tricks to make the game fun for every experience level.
Are large groups welcome?
Please contact us at info@zerolatencyvr.ca for all group reservations, to privatise the space. Ideal activity for corporate events, birthdays, tournament or fun with friends.
Can we have people with us that to not want to play?
Yes, members of your party can be present in your lane for moral support.
Can we play a game of axe throwing, then VR?
Great idea! And you even have a rebate. When you reserve you Bull's Eye experience, the confirmation e-mail will contain a promo code for $10 off a VR session. You'll have a separate booking page for the VR (sorry) and need to reserve separately.